Meals You Can Split At All Four Disney World Parks

Meals You Can Split at All Four Disney World Parks
Feeding a family at Disney World can be expensive. Here is a list of meals you can split at all four Disney World Parks.
Magic Kingdom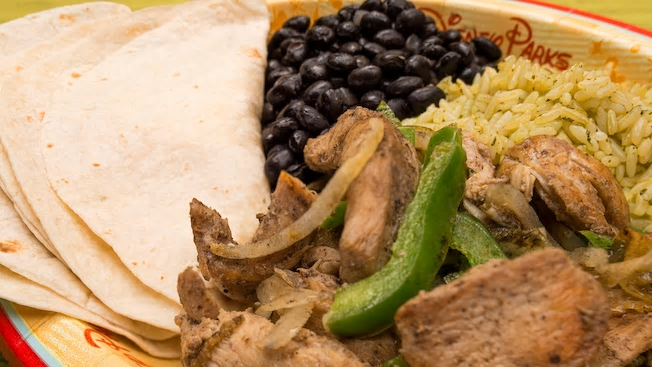 Pecos Bill Tall Tale Inn. Photo Via
Epcot
Tacos at La Cantina de San Angel in Epcot. Above Photo via
Animal Kingdom
Flame Tree BBQ (Discovery Island) – Two can share the Ribs and Chicken Combo for less than $15.49. The meal is also served with coleslaw, baked beans, and jalapeno cornbread. Or, try the Ribs, Chicken, and Pulled Pork Sampler (Smoked Ribs, Chicken and Pulled Pork served with Signature Baked Beans and Coleslaw) for $18.99. Two people could also order the 1/2 Chicken Entree (Smoked Chicken served, Baked Beans, and Coleslaw) for $13.29 AND one side order of French Fries with Pulled Pork & Cheese for $6.49. That's a meal for two to split for about $20.00 total.
Yak & Yeti Local Foods Café (Asia) – Yak and Yeti Quick Service is known for its generous portions.  Two could share one Entree & one Side and still be under $20.00. Entree options include: Teriyaki Beef Bowl (Beef, Carrots, Snap Peas, Onions Mushrooms in  Teriyaki Sauce with White Rice) for $11.49, Honey Chicken (Tempura Chicken, Carrots, Snap Peas, and White Rice) for $10.99, American Kobe Beef Cheeseburger (American Cheese, Lettuce, Tomato, Pickles and French Fries) for $14.99, American Kobe Beef Hot Dog (on a Brioche Bun with French Fries) for $13.99, Asian Chicken Wrap (Chicken, Mixed Greens, and Tomatoes served on a Whole Wheat Tortilla with Chips) for $10.99, Ginger Chicken Salad (Mixed Greens, Grilled Chicken, and Asian Dressing) for $10.99, Vegetable Tikka Masala (Garbanzo Beans, Zucchini, Peppers, Onions and Tomatoes White Rice) $10.99. The Sides are Chicken Fried Rice, Eggrolls, and French Fries and prices range from $3.29 – $5.99.
Rainforest Cafe (Main Entrance) – Two or Three people could split the Awesome Appetizer Adventure For three (Chimi-Cha-Chas, Crustacean Crab Dip, Cheese Sticks, Chicken Strips, Guacamole) for $19.99 or the Beef Lava Nachos For two (Peppers, Onions, Black Beans, Monterey and Cheddar Cheese, Green Onions, Sour Cream, Pico de Gallo, Chipotle Salsa) for $17.99.
Ribs & Chicken Combo at Flame Tree BBQ.  Above photo via. 
Hollywood Studios
Sharing A Pizza At Disney Resorts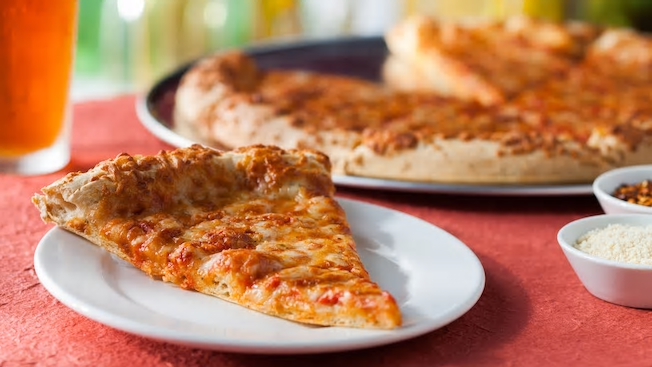 Above Photo via
Disney Resorts offer In-Room Dining. Families can order large pizzas to share. Most Large Pizzas are $20.00 or less (plus tip and gratuity). Many will deliver until Midnight. Click on links Below for more info:
Can you think of any other meals big enough to split at Disney World? Please let us know about it in the comments! Thanks!
Want to Save this info for later? Just PIN the image below!
Let's Be Friends! Follow Me:
Related
About The Author
KristyB
Wife. Mom. Graphic Designer. Photographer. Professional Nap Taker. Part-time Traveler (with kids in tow, of course!)