The Best Cheap Eats at Magic Kingdom
|
A trip to Disney World can be very expensive, especially when you are feeding a family. Finding the best cheap eats at Disney Parks can help save a lot of money (some meals are $25.00 plus/per person!). Here is a list of some of the least expensive meals and snacks at the Magic Kingdom. The meals cost around $10.50 or less, and the snacks are around $5.00 or less.
Least Expensive Meals/Snacks in the Magic Kingdom
Magic Kingdom
Be Our Guest (Fantasyland) –  You can order the Carved Turkey Sandwich or the Slow-cooked Pork (with Green Beans and Mashed Sweet Potatoes) from the Kid's Menu. They will cost you $8.49 (Dinner Kid's Meals are $8.99/$10.99 for steak). Each option is a complete meal and comes with an entrée, one or two sides, a drink, and dessert.
The Friar's Nook (Fantasyland) – The Friar's Nook menu is limited but inexpensive. You can get Barbecue Chicken Macaroni & Cheese for $10.49, the All-Beef Hot Dog (served with Chips) for $8.99, or the Macaroni & Cheese for $8.99.
Prince Eric's Village Market (Fantasyland) –  You can get Golden Fried Chicken (3-pieces) for $10.00 or the Ham and Cheese Pretzel (served with Chips) for $9.99.
Gaston's Tavern (Fantasyland) – At Gaston's Tavern, you can get a Ham and Cheese-stuffed Pretzel for $7.99 or the Tavern Beef Stew for $9.99. They also offer snacks like Chocolate Croissant ($3.59), Hummus and Chips  ($4.39), Mixed Fruit Cup ($3.79), Mixed Vegetable Cup with Dip  ($3.99), Sliced Apples with Caramel Sauce ($3.99), or a Warm Cinnamon Roll) 4.49.
Golden Oak Outpost (Frontierland) –  At Golden Oak Outpost, you can get 8 Chicken Breast Nuggets meal with Waffle Fries for 9.99. You can also get a side of fries as a snack for only $2.99. Chocolate Chip Cookies are $2.99
Peco's Bill Tall Tale Café and Inn (Frontierland) – Order the Rice Bowl or Quesadilla from the Kid's Meal for $6.99. And/Or, you can order a side of chips for $3.99 and head to the toppings bar for cheese, guacamole, veggies, sour cream, pico de gallo, corn salsa, etc.
Plaza Ice Cream Parlor (Main Street, USA) – Order the Mickey Mouse Kid's Cone for $3.49. Just choose your ice cream flavor. It is served in an upside-down cone in a bowl, complete with two chocolate "Mickey's ears".
Casey's Corner (Main Street, USA) – At Casey's Corner, the Corn Dog Nuggets meal is $8.49. It comes with apple slices and French Fries. Or, you can order a side of Chili Cheese Fries for $5.49.
The Plaza Restaurant (Main Street, USA)  – The Plaza Restaurant mostly serves hamburgers that cost $15.00-$21.00, but they offer a few options under $10.00. The Plaza Loaded Fries (French Fries topped with Melted Cheese, Bacon, Lettuce, Tomatoes, and Ranch Dressing) are $8.00. The Wedge Salad (Half Wedge of Iceberg Lettuce served with Tomatoes, Onions, and Cucumbers topped with Gorgonzola and Ranch Dressing) is $8.00 and the Seasonal Soup is $7.00.  There are a few Kid's Meals that are $9.00-$10.00.
Tomorrowland Terrace Restaurant (Tomorrowland) – The Smoked Sausage Sandwich (Smoked Polish Sausage with Grain Mustard and Roasted Onions) is served with Apple Slices or Chips for $10.49. The Spicy Chicken Sandwich is topped with Pepper Jack, Lettuce, and Tomato and is served with Apple Slices or House-made Chips for $9.99.  Or, you could order 8 Chicken Breast Nuggets served with Apple Slices or French Fries – $9.49 or the Chicken Caesar Salad (topped with Bacon, Croutons, and Romano) for $10.49.
Cosmic Ray's Starlight Café (Tomorrowland) – Cosmic Ray's offers a condiments bar to load up on extras for your meal. There are a few entrees on the menu that are under $10.00, These entrees come with one side and fixins from the condiments bar. All the entree's at Cosmic Ray's are $14.99 or less. The options on the Kid's Menu are $7.19 or less.
Lunching Pad (Tomorrowland/Rocket Tower Plaza)- The Lunching Pad offers some hearty, filling snacks that could be a meal. The Ham and Cheese-Stuffed Pretzel is$7.99, the Hot Dog (served with Apple Slices or Chips) is $8.49, the Cream Cheese Pretzel is $4.79, and the Mickey Pretzel (with cheese sauce) is $6.00.
Sunshine Tree Terrace (Adventureland) – Stop by Sunshine Tree Terrace for a cool, sweet treat for less than $5.00.  You can get a Citrus Swirl Cup (Orange Slush with Vanilla Soft-Serve Ice Cream) for $4.29, a Citrus Swirl Orange Float (Citrus Orange and Vanilla Soft-serve Ice Cream with Orange Soda) for $5.29, a Root Beer Float (Vanilla Soft-serve Ice Cream served with Root Beer) for $4.99, a
Soft-serve Vanilla Ice Cream Cup (Soft-serve Vanilla Ice Cream Cup) for $3.69, or a Raspberry Lemonade Slushie for $4.69.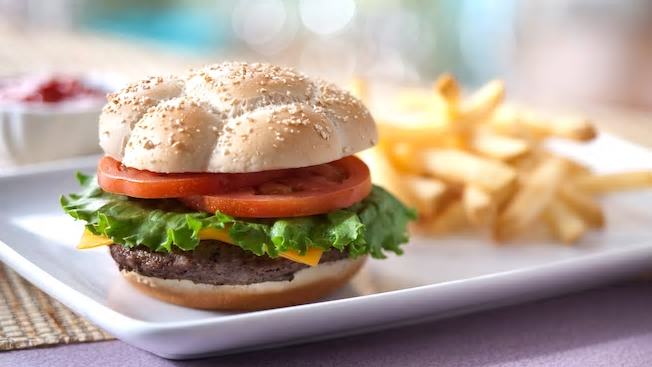 Burger & Fries at Cosmic Ray's Starlight Café. Photo via.
Meals You Can Split At Magic Kingdom
These meals can be split between 2 adults, 2 children, or 1 adult and 1 child – depending on your appetites. I tried to make sure the price is about $10.00 per person.
 
Want to Experience the Be Our Guest Restaurant in Fantasyland without the expense of a full meal? Visit in the early afternoon after the lunch crowd for a sweet dessert! Photo via.
BONUS:
More Money-Saving Tips for Disney World Vacations
Order A Kid's Meal – Adults can order Kid's meals at Disney Restaurants. The portions are a decent size – with an entrée and one or two sides AND a drink. The kid's meals are usually eight dollars or less at quick-service restaurants.
Split A Meal With Large Portions- As seen above, there are some meals options that can be split between 2 people. Pecos Bill & Cosmic Ray's both have condiments bars to bulk up your portions, making the meal even larger for two people.
Bring in Your Own Snacks – Disney allows outside food and drinks as long as they are not in glass containers (the ONLY exception being baby food). This is really helpful to save some money and to calm the kiddos down when they are thirsty and HANGRY (especially if you are standing in line for a long time). I don't like to bring really heavy things, so Larabars, Goldfish Crackers, Trail Mix, etc. are perfect. And, I put them in an inexpensive plastic tub so they don't get smashed in my bag.
Cups of Ice Water are FREE – Ice water is FREE. Simply ask for a cup, or bring your own travel mug to fill.
Eat Breakfast in Your Hotel Room – Bring Snacks, Cereal, Oatmeal (paper bowls & spoons) for breakfast for the hotel room. This works best in a hotel room with a microwave and a fridge.
Plan Your Trip When Free Dining is Available – This seems to be controversial. Either you love it or hate it. But many swear that this is a big money-saver at Disney World.
Bring Starbucks Gift Cards – You can use Starbucks Gift Cards at Starbucks locations at Disney Parks. They can be used for drinks, snacks, and even souvenirs. You can buy discounted gift cards, ask for them as gifts, or earn them on Survey Reward Sites.
Ask for a Large Drink on Dining Plan – On the dining plan, you will be given a medium drink when you order. But, you can ask for a large and get it at no extra charge.
Eat at Table Service Restaurants for Lunch Instead of Dinner – If you have your heart set on eating at a table service restaurant (like the new Be Our Guest), it is less expensive to eat here for lunch. Or, for another option, stop in for an afternoon dessert and a cup of coffee.
Order Pizza at Your Disney Resort – Parents swear by the pizza at the Disney Resorts. After a long day at the parks, just order a pizza, wait for it to be delivered,  and share it with the family for a relatively cheap dinner.
Get Free Breakfast – If staying off-site, find a hotel that offers a free breakfast. Or, find a hotel with a kitchenette or an Airbnb to make your own breakfast (or lunch or dinner).
Get Discounted Gift Cards – Discounted Disney Gift Cards can be purchased at Sam's Club or BJ's. Discounted Rainforest Café or Landry's (can be used at Rainforest Café & Yak & Yeti Local Foods Café)  gift cards can be purchased on Raise.com. If you are going to the movies while on vacation at Disney, you can also find AMC Gift Cards at a discount on Raise.com (It's not food, but I just thought of it since we were mentioning discount gift cards).
Save Snack Credits for Epcot – If on the Disney Dining Plan, you can save and use most of your snack credits in Epcot and drink and snack around the world. There are so many options in Epcot, and this allows you to sample a variety of international foods and drinks.
Do you have any money saving tips for feeding a family at the Magic Kingdom at Disney World? I'd love to hear about it in the comments!
Let's Be Friends! Follow Me: