110 Things to Do in The Great Smoky Mountains with Kids
|
There are hundreds of activities and restaurants in the areas surrounding The Great Smoky Mountains. Here are 110 we have enjoyed!
I have provided links to each one if you want more information – like hours, location, and pricing. These are listed in a random order. I was NOT compensated to recommend any of these fun places. I just wanted a good list to help families plan their trip to The Great Smoky Mountains!
1.Drive (or walk or bike) through the beautiful Cades Cove valley, one of the most visited spots in The Great Smoky Mountains.
2. Spend a day or two riding roller coasters or water rides at Dollywood. and/or Dollywood's Splash Country 
3. Ripley's Aquarium of the Smokies (voted one of the Top 5 Aquariums in the USA and the World!). The kids will love getting up close and personal with the penguins and watching sharks swim overhead!
4. Order the kids a pizza and order some Beer Cheese Dip for yourself at The Smoky Mountain Brewery in Gatlinburg or Pigeon Forge.
Above photo via
5. Spend the evening at the Hatfield and McCoy Dinner Feud Show.
6.Ride the Ski Mountain Coaster, Ariel Tramway, do some shopping or skiing at  Ober Gatlinburg.
7. Eat an entire basket of garlic bread rolls at Best Italian Restaurant in Pigeon Forge or Gatlinburg.
8. Try your inner ninja warrior at Sevier Air's Trampoline and Ninja Warrior Park.
9. Ride the alpine coaster at Goats On A Roof. on Wears Valley Road in Pigeon Forge. This mountain coaster is thrilling but smooth and enjoyable. There are goats to feed and a quaint give shop. The staff is very friendly!
10. Experience over 100 interactive exhibits at the (UPSIDE DOWN!) Wonderworks in Pigeon Forge.
11.Order some Nachos or Street Tacos at No Way Jose's Cantina in Pigeon Forge and Gatlinburg.
12. Ride The Great Smoky Mountain Ferris Wheel at the Island in Pigeon Forge.
Above photo via
13. The whole family will love the view from Clingman's Dome , the highest point in Tennessee!
Above photo via
14. Treat yourself to a special breakfast of pancakes, crepes, etc at the Log Cabin Pancake House. They also serve country ham and biscuits and gravy if your in the mood for something more hearty. Or stop by for lunch for the soup and salad bar and the lunch buffet!
15.Hike 2.6 miles (round trip) to Laurel Falls Trail to see an 80 foot waterfall (and maybe some black bears in the distance!)
16. You and the family can ride the 300 foot incline before showing off your mini golf skills on 2 – 18 hole golf courses at Hillbilly Golf in Gatlinburg
17. Let the kiddos experience a variety of climbing walls and other climbing challenges at Clip 'N Climb at Top Jump Trampoline Park.
18.Grab a giant corndog and play some arcade games at Fannie Farkel's in Gatlinburg.
19. Hike 1.5-mile route to Grotto Falls. You will hike along the Trillium Gap Trail, passing a series of waterfalls before walking behind Grotto Falls.
Above Photo via
20. Take the littles to enjoy The Flying Horse Carousel and the Lil Ribbits frog ride at The Island in Pigeon Forge.
21.Enjoy some thrills while riding the gravity-propelled Rowdy Bear Roller Coaster or fly through the treetops with the Rowdy Bear Mountain Glider at Rowdy Bear Mountain.
22. Pick up some fresh produce, baked goods, and visit over 1000 vendors at the Great Smokies Flea Market.
23.Treat yourself to some of Paula Deen's favorite creations (and do a little shopping) at Paula Deen's Family Kitchen at The Island in Pigeon Forge. She puts out a huge spread for breakfast, lunch, and dinner.
24. Let the kids get all their wiggles out at Top Jump Trampoline Park in Pigeon Forge.
Above photo via
25. Let the kiddos experience a 2nd story freefall at Twist & Shout at the Island in Pigeon Forge.
26. Experience Go-Carts, Mini Golf, Bumper Boats, and a Rock Wall at Nascar Speed Park of the Smoky Mountains.
27. Stuff your faces with all you can eat "vittles" (coleslaw, baked white beans,  french fries, mashed potatoes and gravy, their signature southern hushpuppies, dill pickles, and onions slices)  at Huck Finn's Catfish Shack. But save some room for the main course. Huck Finn's offer Golden Fried Chicken, Country Fried Steak, Grilled Chicken, Frog Legs, Fried & Grilled Shrimp, Ribeye Steak and Chicken Livers.
28.Let the kids see Parrots, Magpies, and other birds while walking through the Secret Garden at Parrot Mountains and Gardens.
29. CLIMB Works Canopy says your feet won't touch the ground for 2.5 hours as you find your way through the trees by means of zip lines and platforms. A guide is with you, giving you lots of information about the Smoky Mountains. In addition to the zip lines, there is mountain biking and challenge courses.
Above photo via
30. Take your kids for a thrill ride on the Gatlinburg Mountain Coaster.  MORE…
31. Take the kiddos to  Zip Gatlinburg. Try out the Zip Line and the Zip Coaster. There is also the Tree Trek, which has 27 Obstacles. The kiddos will also love the Kid's Net Course -a 1,500 square foot Trapeze Net 30 feet off the ground!
32. Enjoy a fantastic and filling meal at The Old Mill Pottery Grill and Café  or The Old Mill Restaurant in Pigeon Forge. Their menu includes country-fried steak, pot roast, and deep dish chicken pot pie. You can also visit the shops in the Old Mill Square for jams, jellies, and other items to take home.
33. Stop at the Gatlinburg Scenic Overlook to enjoy some breathtaking views of The Smoky Mountains and Downtown Gatlinburg.
34.Rainy? Too cold? Too hot? Wild Bear Indoor Water Park is open year round.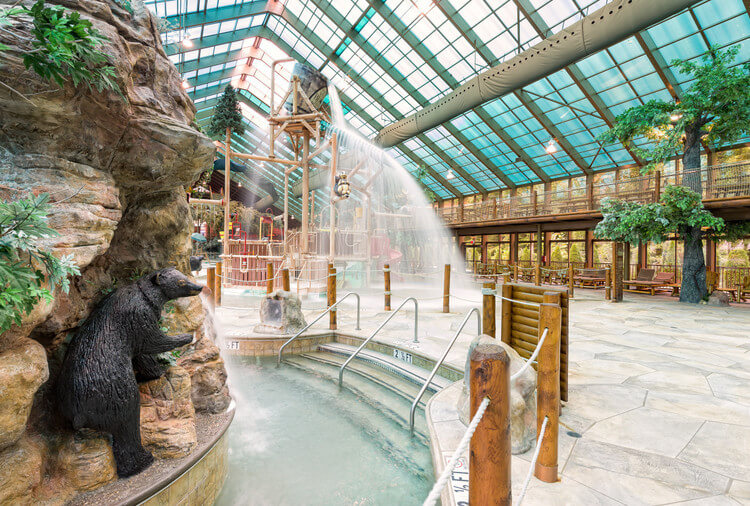 Above photo via
35. Try some delicious pork ribs, chopped pork, beef brisket and chicken at Bennett's Pit BBQ. There is also a large salad bar for the veggie lovers in the family.
36. Take a guided mountain trail ride in the National Park at Sugarlands Riding Stables.
Above photo via
37.  Take the kids downtown Gatlinburg to The Donut Friar for glazed donuts, crullers, eclairs, cinnamon rolls, and their popular cinnamon bread.
38. Ride the Gatlinburg Trolley
39. Glide over 500 feet above Gatlinburg on Sky Lift Gatlinburg for great views of the Smoky Mountains and Gatlinburg.
40. Stuff your faces at the Applewood Farmhouse Restaurant with Apple Julep Grilled Chicken, Country Quiche with Fresh Fruit, Country Fried Chicken with Gravy or many other options. Enjoy some complimentary fruit juice and apple fritters while waiting for your meal!
41. Have a nice filling brunch  (on the weekends) at Cherokee Grill. Or visit for lunch or dinner and order the kids some ribs (and get some for yourself too!)
42. Take the kids to play some games at Arcadia in Gatlinburg.
Above photo via
43.Put on some stretchy pants and head over to Flapjack's Pancake Cabin . They offer Reese's Peanut Butter Pancakes,  Chocolate Chip Pancakes, Wild Mountain Blueberry pancakes, and the Sticky Bun pancake. The menu also includes other breakfast items such as Elkmont Egg Platters, Omelets, Campfire Skillets, and a variety of sandwiches.
Above photo via
44. Have a fun, relaxed meal at Margaritaville Restaurant at the Island.
45.Take the kids to watch taffy being made (and eat some!) at Smoky Mountain Candy Makers
46.Drive Little River Road by the Little River. Feed the ducks and take a few photos in this lovely area. The road actually spans 18 miles, beginning at Sugarland's Visitor Center and ending at Cades Cove. There are signs posted to let you know where to find picnic areas, overlooks, hiking trails, and waterfalls.
47. Visit Sugarland's Welcome Center to see some exhibits and a short video about the history of The Great Smoky Mountains. There is also a shop and a bookstore.
Above photo via
48. Visit Three Jimmy's on family trivia night and try some of their award winning wings!
49.Take a walk down the Downtown Gatlinburg Parkway.
50. Let the kids enjoy some Lazer Tag, Go-carts, Mini Golf, and an Arcade at Lazer Port Fun Center in Pigeon Forge
Above photo via
51. Enjoy some delicious ribs, burgers, salmon, or BBQ at Calhoun's in Gatlinburg.
Above photo via
52. Visit Greenbrier to tube, swim, picnic, hike, sunbathe, fish, bird watch, bicycle, or just sit back on a rock along the river.
53.  Enjoy the Shrimp, Corn and Crab Bisque, fresh hamburgers, Jambalaya, or Roast Beef Sandwich at New Orlean's Sandwich Company in Gatlinburg
54. Take the whole family for a tour of the Titanic Museum Attraction in Pigeon Forge
55. Enjoy a fun whitewater rafting adventure or scenic float at Rafting with Big Creek Expeditions
56. Try the Goliath Zip Lines- the highest and longest lines in the Smoky Mountains. Or try the Waterfall Canopy Tour – 7 amazing zip lines over rivers and creeks. Foxfire Mountain Adventures also has the swinging Bridge to Prosperity and ATV riding adventures.
57. The kids will love the OGO and Fishpipe at  Outdoor Gravity Park Pigeon Forge.
Above photo via
58. Try the brisket or rib sandwich with some sweet sauce at Hungry Bear BBQ in Gatlinburg
59. If your family enjoys oddities and interesting exhibits, take them to Ripley's Believe It or Not  Museum in Gatlinburg
60. Enjoy go-carts, bumper cars, mini golf, and other rides at The Track in Pigeon Forge.
61. Chubby's Deli was voted #1 in Sevierville on Trip Advisor! Try the Chubby Burger, The Chicken Fried Chicken, and/or the Catfish. It is off the beaten path, but definitely worth the drive. Don't be put-off by the fact that it is in a gas station – the food and service are fantastic!
62. The kids will love their adventures at Treetops Ropes Course in Sevierville
Above Photo via
63.Take the kids to experience Ripley's Moving Theater in Gatlinburg
64. Treat your family to a stay at Wilderness of the Smokies. It has a huge indoor water park, adventure forest, and other attractions.
65.Adventureworks Climb Zip Swing in Sevierville
66. Take the kids on a fun ride at the Monster Truck Ride in Sevierville
67.  See lots of animals and (maybe!) pet some baby goats at  RainForest Adventures
Above photo via
68. You and the kiddos can try to find your way through a maze of mirrors and LED lights at Ripley's Marvelous Mirror Maze in Gatlinburg
69. Take the whole family to Thunderdome at The Island in Pigeon Forge to experience some bungee trampolines in a huge dome!
70. Enjoy some family time at Gatlin's Smoky Mountain Fun  (formerly Fort Fun) in Gatlinburg. They have mini golf (indoor & outdoor), lazer tag, bumper cars, motion ride, escape games, and gem mining.
71. Stuff your faces with Steak & Eggs, Griddle Cakes, and Pecan Smoked Bacon at Crockett's Breakfast Camp
72. If your family has the need…the need for speed, they will LOVE the  Extreme Racing Center in Pigeon Forge. They have the fastest go-carts in the Smoky Mountains.
Above photo via
73.Take the family to see some fascinating exhibits and over 20 games and challenges at the Guinness World Record Center in Gatlinburg
74.  Enjoy some fantastic views and scenery at  Scenic Helicopter Tours in Sevierville, TN.
75.  Have a slice or two of pizza in a wood- fired  brick oven at Big Daddy's Pizzaria
76. Enjoy a few fun rounds of mini golf at Ripley's Old MacDonald's Farm Mini-Golf in Sevierville
77. Grab a chocolate – peanut butter milkshake at Smoky Mountain Shakes & Dogs
78. Take the kids for a unique adventure at the Island Mirror Maze in Pigeon Forge
The Island Mirror Maze. Above Photo via
79. Stop at Old Dad's for breakfast. Or swing by for lunch. They offer ice cream, milkshakes, homemade pastries, and cupcakes. They also have a general store and sell camping, hiking, and fishing supplies.
80. You can check out Circus Golf  in Gatlinburg, Tennessee, an indoor golf course in Black-lit 3D
81. Spend a couple hours or all day tubing or kayaking at River Romp Tubes and Kayaks Rentals 
82. Enjoy a historic nature trail at Roaring Fork. It is a 5 1/2 mile loop with beautiful scenery, streams, log cabins and mills.
83. Let the kiddos enjoy The Happy Swing that swings up to 9 feet in the air!
84. The Crystelle Creek Restaurant and Grill is a family-friendly restaurant that offers oak wood fire steaks, Italian, BBQ, Catfish, Trout, Burgers, and Sandwiches.
85. Discover Foxfire – Swinging Bridge Adventure  in Sevierville
86. Loosen your pants and head over to the Pancake Pantry for some pancakes with real butter and maybe some whipped cream. More Info…
Above photo via
87.  If it's a pretty day, you can take the kiddos for a stroll, do some shopping (there are 27 shops), and grab something to eat at The Village Shops in Gatlinburg. It is like stepping into another world!
89.If your family love seafood, take them to try some fresh, local Rainbow Trout at  Smoky Mountain Trout House
90. Be brave on The Island Ropes Course. They offer a rope course for kids under 48 inches that is a little bit closer to the ground (parents can walk on the ground next to the little kiddos too!), and another course for more daring kids and adults (smaller children can go with an adult chaperone on the larger challenges).
Above photo via
91. Take the family to The Covered Bridge Shops in the Glades for dining and shopping. Or visit the farmer's market every Saturday from 8:30 until 12:00.
92.  Enjoy some tea and delicious food (which is always fresh) at Wild Plum Tea Room (2016 Trip Advisor Certificate of Excellence Winner). They offer vegetarian, vegan, and gluten-free options.
93. Find some great deals at the Tanger Outlets in Sevierville.
94. Take the kids fishing at English Mountain Trout Farm & Grill. in Sevierville. You catch the fish, and they cook them for you!
95. Take a six-mile scenic drive through Roaring Fork Motor Nature Trail. Pack a lunch and stop for a picnic when you find the perfect spot!
96. Treat your family to a hearty breakfast or lunch at  Sawyer's Farmhouse Restaurant
Above photo via
97. Let the kiddos drive a circular bumper car at Island Bumper Cars. They can drive in any direction or just spin in circles if they want.
Above photo via
98. Take the whole family out for a nice night out at The Park Grill Steakhouse in Gatlinburg offers a sophisticated children's menu and offer a variety of children's "Daiquiris".
99. Experience a panorama view of Gatlinburg from the top of the Gatlinburg Space Needle
100. Order the kids a prime rib steak or trout (with a salad bar) at The Peddler Steakhouse in Gatlinburg. Parents can order themselves Prime Rib, Filet Mignon, or Rainbow Trout. They can enjoy the salad bar and their signature Chicken Almond Soup.
101. Let the kiddos place their rocks in a screen-bottomed box, then into the water to  find gemstones at The Island Miner's Gems
102. The  Great Smoky Mountain Railway is located in Bryson City, NC, just right outside the National Park. Enjoy a few hours on a diesel or steam-powered train.
103. Do some white water rafting on Big Pigeon River Rafting at Wildwater Adventure Center in Hartford.
Above photo via
104. Take the kids on a hike on the Rainbow Falls Trail (about 5 miles, 3 hours – may be better for older children and teens).
105. Enjoy The Island Show Fountain at the Island.  The shows are every Monday through Sunday. They play about every 30 minutes beginning at the top of each hour. You can watch during the day or see the fountains lit up at night. The shows run from 10 am until 11:30 pm.
106. Take the family for a lovely, scenic drive along Newfound Gap Road
107. Take the family to try some German Food and Belgium Fries at Poynor's Pommes Frites in Pigeon Forge
108. Visit the shops, galleries, and studios at The Great Smoky Mountain Arts Community
109. Try some Lobster Ravioli or Clams at Taste of Italy of Gatlinburg
110. Treat yourselves to a hearty lunch or dinner at the Timberwood Grill at The Island.
The Island photo via
What are your family's favorite things to do and eat in the Smoky Mountains? I'd love to hear about it in the comments below!
Let's Be Friends! Follow Me: